Latest School Event Calendar Events
Christmas Performance

12

Dec

2013

11:15 am - 11:30 am @ School Hall

Nursery performance to families of children in Nursery

Christmas Performance

12

Dec

2013

03:00 pm - 03:15 pm @ School Hall

Nursery performance to families of children in Nursery

Christmas Performance

13

Dec

2013

09:30 am - 10:30 am @ School Hall

Reception performance to families of children in Reception

Christmas Performance

13

Dec

2013

02:00 pm - 03:00 pm @ School Hall

Reception performance to families of children in Reception

Carols by Candlelight

15

Dec

2013

06:00 pm - 07:00 pm @ St Saviour's Church

Church Services for St Peter's Parish Community Everyone Welcome

Christmas Disco

16

Dec

2013

05:00 pm - 06:00 pm @ School Hall

Christmas Disco for Years 1,2 & 3 Further details to follow

Christmas Disco

16

Dec

2013

06:15 pm - 07:30 pm @ School Hall

For years 4,5 & 6 Further details to follow

Christmas Lunch

17

Dec

2013

12:00 pm - 01:15 pm @ School Hall

Our cook, Mrs Hart and her team are presenting a Christmas Lunch for all the children of:- Roast Breast of Turkey or Roast Quorn, cranberry sauce and gravey, crispy roast and creamed potatoes, sliced carrots and garden peas. Followed by Christmas crispy bar, jelly and ice cream or Christmas biscuit. Please return the slip on the 6th December Newsletter as soon as possible

Christmas Performance

17

Dec

2013

02:00 pm - 03:30 pm @ Church

Year 4 performance to families of children in Year 4

Nursery & Reception Christmas Entertainer

17

Dec

2013

05:00 pm - 06:00 pm @ School Hall

Christmas Entertainer for the children of Nursery and Reception (more details to follow)
Calendars page(s):
School Event Calendar >>
Harvest Festival Collection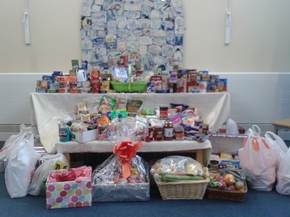 Thank you to all our Parents, Grandparents and friends for the tremendous support we had for our Harvest Festival collection on behalf of the Foodbank.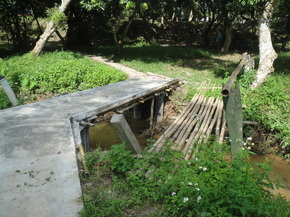 Over the Summer Miss Smith was able to take the money raised from 'Ties for Thailand' out to Kid's Life children's home, and they were all so grateful! There were flash floods just before she arrived and one of the bridges on site was destroyed. The money raised by St Peter's has allowed them to build a permanent and safe bridge. She was also able to buy some new exercise books and pencils for a tiny school in the Orange Groves: without this donation they would have had no resources at all! Miss Smith reports that it was a joy to hear the squeals from the girls as they raided the bag full of hair bobbles and clips! So on behalf of everyone at Kid's Life, thank you very much St Peters!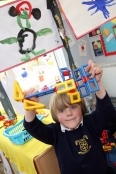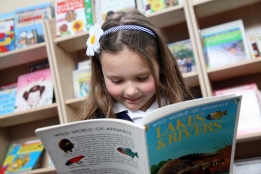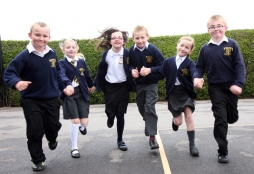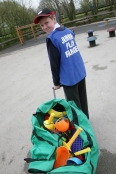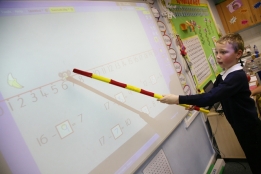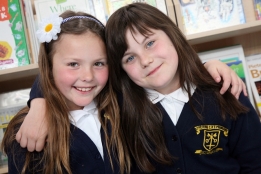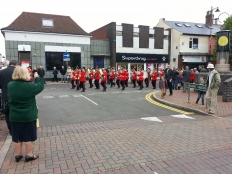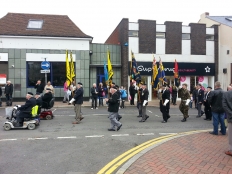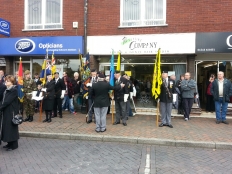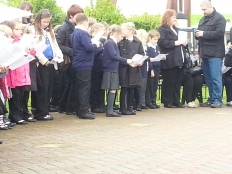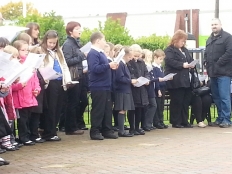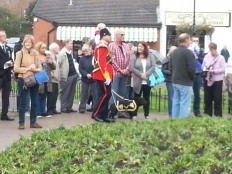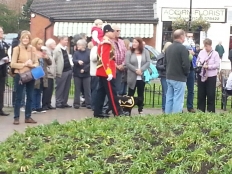 Pupils from St Peter's School joined the local community to celebrate the Staffordshire Regiment being awarded the freedom of Hednesford.